ALBUQUERQUE WORKS
This is a smart, talented community with a workforce pipeline of more than 60,000 college students.
Young. Skilled. Talented. Educated. These are just some of the adjectives often used to describe Albuquerque's workforce.
The Albuquerque metro area population totals 909,906 residents. The region has a favorable ratio of residents in the key working age group of 20-34 years. Current estimates show that 19 percent of the population is in this key age bracket, compared to the national average of 18 percent. Albuquerque's 20-34-year-old category is also projected to expand by a greater rate than the national average.
The area is also home to more than 60,000 college students from which to recruit. This is a young, affordable, and smart work force. Albuquerque ranks among the top metros in the nation for the percentage of workers with a college degree: 32 percent in Albuquerque and 29 percent of our combined workforce in the metro area have a bachelor's or advanced college degree.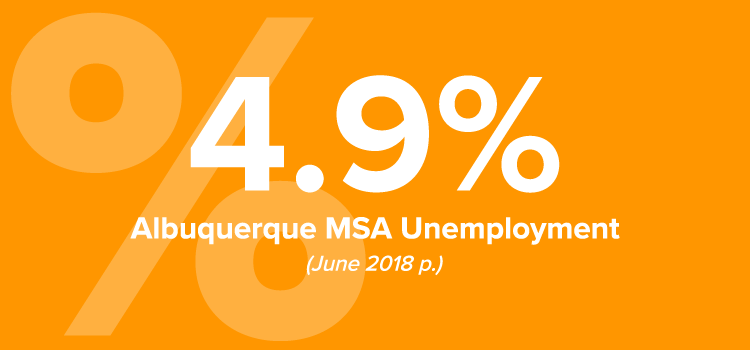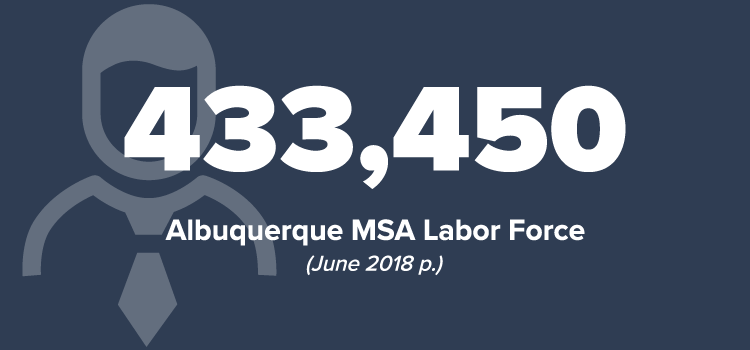 Source: New Mexico Department of Workforce Solutions, 2017
Workforce Development Programs  
Central New Mexico Community College (CNM)
CNM is New Mexico's largest and most comprehensive community college. After starting out as a vocational school back in 1966, it has grown into a nationally respected and innovative community college with more than 23,000 students. CNM often partners with local business and industry to develop programs and curriculum specific to the needs of employers.
CNM Ingenuity, Inc.
CNM Ingenuity supports a new approach to education that provides accelerated educational and training opportunities ​in key workforce areas, wrap-around support for aspiring entrepreneurs, and cooperative ventures that foster economic development and job creation in the region. Since being established as a 501(c)3 in 2014 under the New Mexico Research Park Act, CNM Ingenuity has made tremendous progress on behalf of Central New Mexico Community College and the local economy. The mission of CNM Ingenuity Inc. is to promote the public welfare and prosperity of the people of New Mexico and foster economic development within both the private and public sectors of the New Mexico community. CNM Ingenuity Inc. accomplishes this purpose by forging links between New Mexico's educational institutions, businesses, industries, and government​.
CNM Workforce Training Center
The Central New Mexico Community College Workforce Training Center (WTC) offers customized training services for local employers. The WTC provides high quality and innovative employee training, professional development, continuing education, and skill development. Through collaboration and expertise, the WTC can design programs that will meet a company's specific needs. Through its customized workshops, courses and training programs, CNM has earned a national reputation as a key industry partner in developing and training New Mexico's productive workforce.
CNM can assist in a company's training programs in the following ways:
Make instructors available on-site to teach CNM coursed or customized training programs defined by the company. These programs can include classroom or on-the-job.
Lease equipment or use the company's equipment on or off-site to train employees and potential employees on the use of specialized equipment.
An off-site pre-employment training program can be created to help identify the most qualified applicants prior to their hire.
University of New Mexico Continuing Education (UNM-CE)
UNM-CE's Customized Training and Consultation Services Program offers businesses a cost-effective, targeted way to enhance employees' job skills and performance. UNM-CE can customize any course to meet the unique needs of your company or organization. In addition, UNM-CE can assess, design and develop courses, programs, conferences, and workshops based on the curriculum requirements that a company specifies. Their staff of professional training consultants will help you align your training needs with a customized training program, and the expertise provided by over 100 experienced, dedicated, and certified instructors will help you meet your company's training and performance goals.
Department of Workforce Solutions (DWS)
The staff at the DWS Workforce Development Centers are available to help match the needs of employers with the skills of job seekers by offering the following services:
Recruitment assistance
On-the-job training program
Pre-screening assistance
Internet recruitment
New Mexico's labor force is often cited by various studies as being first in the nation for workforce productivity. A study conducted by Area Development Magazine, ranked the Albuquerque metro area number one for manufacturing productivity in terms of dollars of output per worker.
Local Training Initiatives Content…
Associated Builders and Contractors Apprenticeship Program
ABC currently offers formal apprenticeship training in seven trades: Carpentry, Craft Laborer, Electrical, Plumbing, HVAC-R Technician, Masonry and Sheet Metal. ABC's Carpentry, Electrical, HVAC-R, Plumbing and Sheet Metal programs are four-year programs. Masonry is a three-year program and Craft Laborer is a two-year program. In order to complete the program, apprentices must successfully complete 144 hours of classroom training and perform 2,000 hours of on-the-job training each year. These programs conform to Office of Apprenticeship (OA) standards and have been approved by the New Mexico State Apprenticeship Council (SAC). They are qualified programs for purposes of the training requirements imposed by New Mexico's Public Works (Little Davis-Bacon) Act. ABC's apprenticeship programs are accredited by the National Center for Construction Education and Research (NCCER).
ABC's programs rely upon the nationally accredited NCCER curriculum. Employers and instructors are encouraged to recommend additional teaching materials to ensure the most complete training for all apprentices. All ABC instructors are experienced craftspeople in their trade and all are NCCER-certified craft instructors. ABC is open to expanding training programs and improving services. For more information, contact ABC.