The greater Albuquerque region has seen inbound migration from many neighboring metropolitan areas. Migration into the area is fueled by people interested in leaving the hassle of larger, more expensive markets. The area offers people the opportunity of home ownership, short commute times, low cost of living, excellent quality of life, access to amenities and the availability of stable job opportunities.
The greater Albuquerque region has always been a very diverse community. Of the non-Caucasian population, the leading ethnic minorities include Hispanic, American Indian, Two or More Races and Other Race. This diversity fuels innovation, with many different perspectives and unique insights that can spark creativity and bring new ideas to life.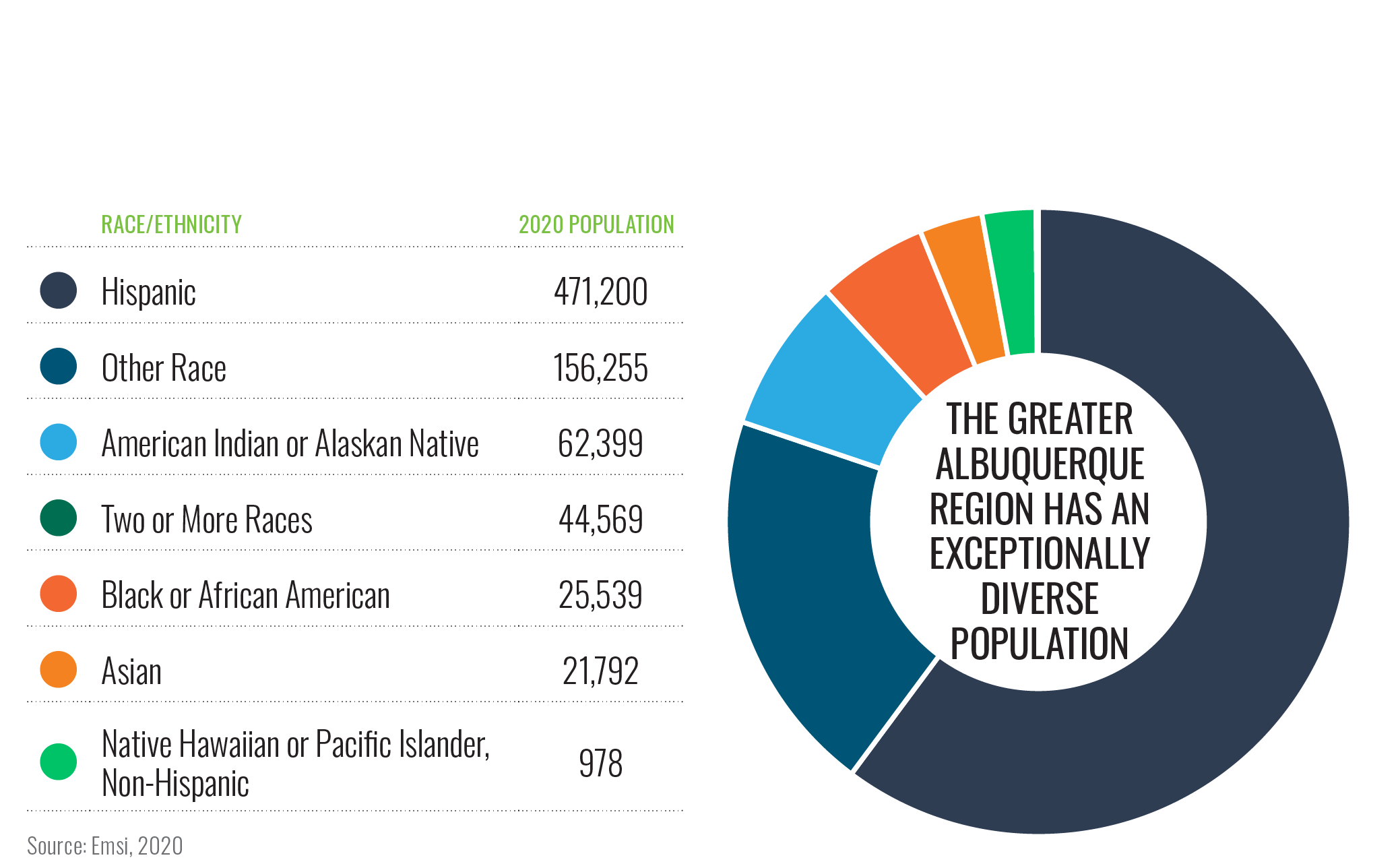 BUSINESS OWNED BY DIVERSE POPULATIONS
TOP 5 HISPANIC-OWNED BUSINESSES
• Applied Technology Associates
• ADC LTD NM
• Roses Southwest Papers Inc.
• Dreamstyle Remodeling
• Abba Technologies Inc.
TOP 5 LGBTQ-OWNED BUSINESSES
• Beck 'n Call Pet Services
• El Brujo Nava Music
• Green Sweep
• Decades LLC
• Moxi Hair Studio
TOP 5 WOMEN-OWNED BUSINESSES
• Bradbury Stamm Construction Inc.
• ADC LTD NM
• NAI SunVista Commercial Real Estate
• Computer Corner Inc.
• Sunny505
TOP 5 AFRICAN AMERICAN-OWNED BUSINESSES
• Nexus Brewery and Restaurant
• Albuquerque Image Products
• Rude Boy Cookies
• JLC Professional Plumbing & Heating
• Focus Advertising Specialties
TOP 5 AMERICAN INDIAN-OWNED BUSINESSES
• Laguna Development Corp./Route 66 Casino Hotel &
Travel Center
• AMERIND Risk
• Kimo Constructors Inc.
• Iina Ba Inc.
• Keres Group