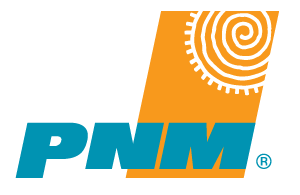 COMPANY PROFILE
Established
1917
Number of Employees
1,850
Industries
Utilities
Years as an AED Investor
26 year
Learn More
Learn more about how PNM can help you and your business. Visit the company website at www.pnm.com.
PNM is providing smart, sustainable power to New Mexico. 
The Public Service Company of New Mexico (PNM) has been serving New Mexico since 1917. As the largest electricity provider in New Mexico, PNM serves over 520,000 customers in the greater metropolitan Albuquerque, Rio Rancho and Santa Fe areas, as well as many other communities throughout the state (including many tribal communities). As a local New Mexico business, PNM is honored to be able to serve communities through financial and volunteer support of local nonprofit organizations. PNM and the PNMR Foundation contribute to more than 450 local organizations through grants, sponsorships and employee volunteerism valued at more than $4 million, with employees donating more than 10,000 volunteer hours each year.
PNM relies on a smart, balanced fuel mix that includes solar, wind, geothermal, natural gas, nuclear and coal. Every year, more renewable resources are added to that mix. Fifteen percent of the current power that customers receive from PNM is generated through renewables, with plans for that number to increase even more in the future. PNM supports sustainability and is proud to provide its customers with a robust package of sustainability products to meet their needs. PNM offers a range of products including a build-your-own approach to energy efficiency, analytics-based and customized demand response options, voluntary renewable energy subscriptions in wind and solar, as well as a green tariff for customers who prefer to have dedicated renewable facilities to serve them. In 2016 alone, PNM paid out nearly $12 million in energy efficiency incentives, helping customers save over 82 million kilowatt hours. PNM's energy efficiency programs have provided more than $67 million in customer rebates and helped save almost 2.6 billion kilowatt hours of electricity – enough to power approximately 378,000 homes for a year. These programs have kept an estimated 1.6 million metric tons of carbon dioxide out of the air and saved 876 million gallons of water. PNM enjoys working with businesses to help find ways to reduce energy use and hopes more businesses will join.  To learn more about these programs and to view case studies for PNM business customers who have participated in PNM's programs, visit the website.
Additionally, PNM actively collaborates in re-shaping the direction and future of the industry on multiple levels, an initiative driven by the highest levels of PNM's leadership. PNM Chairman, President and CEO, Patricia Vincent-Collawn, was the 2017-2018 Chairman of the Board for Edison Electric Institute (EEI), a national trade association that represents all U.S. investor-owned electric companies. A champion of economic development in the state, Ms. Vincent-Collawn also chairs the board of The New Mexico Partnership, a public-private organization that offers a variety of services to assist site selectors and business owners in finding a home in New Mexico.
An investor-owned, New Mexico-based company, PNM is headquartered in Albuquerque and is traded on the New York Stock Exchange. PNM offers competitive rates and incentives, including an economic development rate, to help existing customers grow and to attract new industry to New Mexico. With a proven track record of successfully negotiating the installation and cost responsibility for upfront investment, PNM can develop and tailor innovative rates to make it more attractive for large customers to locate in the New Mexico service area. PNM is an active participant in exploring opportunities that serve customers during a transformative time for the industry, and strongly believes in integrating information and communication technology to connect and manage the infrastructure of the communities it serves. PNM is appreciative to work with customers who are looking to drive progress and innovation within its service area, and looks forward to working with you. If you have questions or comments, please contact the PNM Economic Development team at 505-241-2558.