Women of Influence 2022: This is how Danielle Casey is driving Albuquerque's economy forward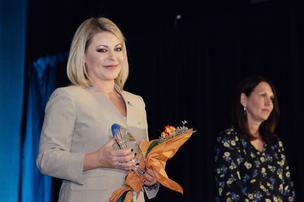 For 18 years, Albuquerque Business First has honored local leaders who have earned the Women of Influence designation. The annual awards program is meant to shine a light on those individuals who are having a positive impact on New Mexico — both inside and outside of the office.
A ceremony celebrating the 2022 Women of Influence was held on Feb. 28 at Sandia Resort and Casino. A special Jennifer Riordan Community Impact Award was also presented as part of the program.
In the coming days online, and in the March 4 print edition of ABF, you will have the opportunity to learn more about each of these individuals. Today, meet Danielle Casey, president and CEO of the Albuquerque Regional Economic Alliance.
Danielle Casey
President/CEO, Albuquerque Regional Economic Alliance
Danielle Casey was a military brat growing up, moving from state to state and enjoying the experiences that came with it. That way of life took root.
So when the opportunity to relocate to a city known for its bustling arts and cultural scene — not to mention its scenery — came up, Casey jumped at the opportunity. That city was, of course, Albuquerque.
After a national search in 2020, Casey was named the president and CEO of Albuquerque Regional Economic Alliance (known as Albuquerque Economic Development at the time). She has served in the role for a little more than a year.
It's a job Casey said she finds rewarding — from helping lead the organization's name change to recruiting large companies to the city, such as MTX Group Inc.
Casey was also a leader in helping shape AREA's five-year strategic plan for the Albuquerque metro.
Share an act or decision that best illustrates your leadership ability: I work very hard to hire people smarter than me. I also work to create collaboration by finding common ground with partners across numerous arenas, from the chamber of commerce to local government to a diverse set of industry leaders. Successfully raising funds and completing the first-ever strategic plan for a 60-year-old organization in my first seven months in the role was a big feat of leadership as it required outreach, data-driven discussions and also a steadfast focus on the purpose at hand.
Why do you believe you are a Woman of Influence? I believe I am a Woman of Influence because I take my role and responsibility of driving our economy forward very seriously. I hire people smarter than me and focus on listening more than talking when possible, but when I do speak, it is with enthusiasm and excitement for the mission before me. I lead by example, and am not afraid to make mistakes in the pursuit of growth and excellence.
What needs to happen for more American women to reach the top levels of leadership in business? We need to continue to support one another and prop each other up.
https://www.bizjournals.com/albuquerque/news/2022/03/18/women-of-influence-danielle-casey.html