COMPANY PROFILE
Established
2006
Founder
David Hamlin
Number of Employees
29
Industries
Design, fabrication and manufacturing
Years as an AED Investor
1 year
RECOGNITION
Magazines
Su Casa Magazine 2018; Metropolis Magazine 2018; Interior Design Magazine Spring Market Tabloid 2018; Fast Company 2017; Interior Design Magazine Spring Market Tabloid 2017; DesignMilk 2017; Alpine Modern 2017; Interior Design Magazine 2016; Design Milk 2014; Interior Design Magazine Fall Market Tabloid 2014
Awards
Metropolis Likes Award 2018; Interior Design Magazine Best of Year 2014
Learn More
Learn more about Submaterial's products and how the company can assist you with your office space. Visit the company website at www.submaterial.com.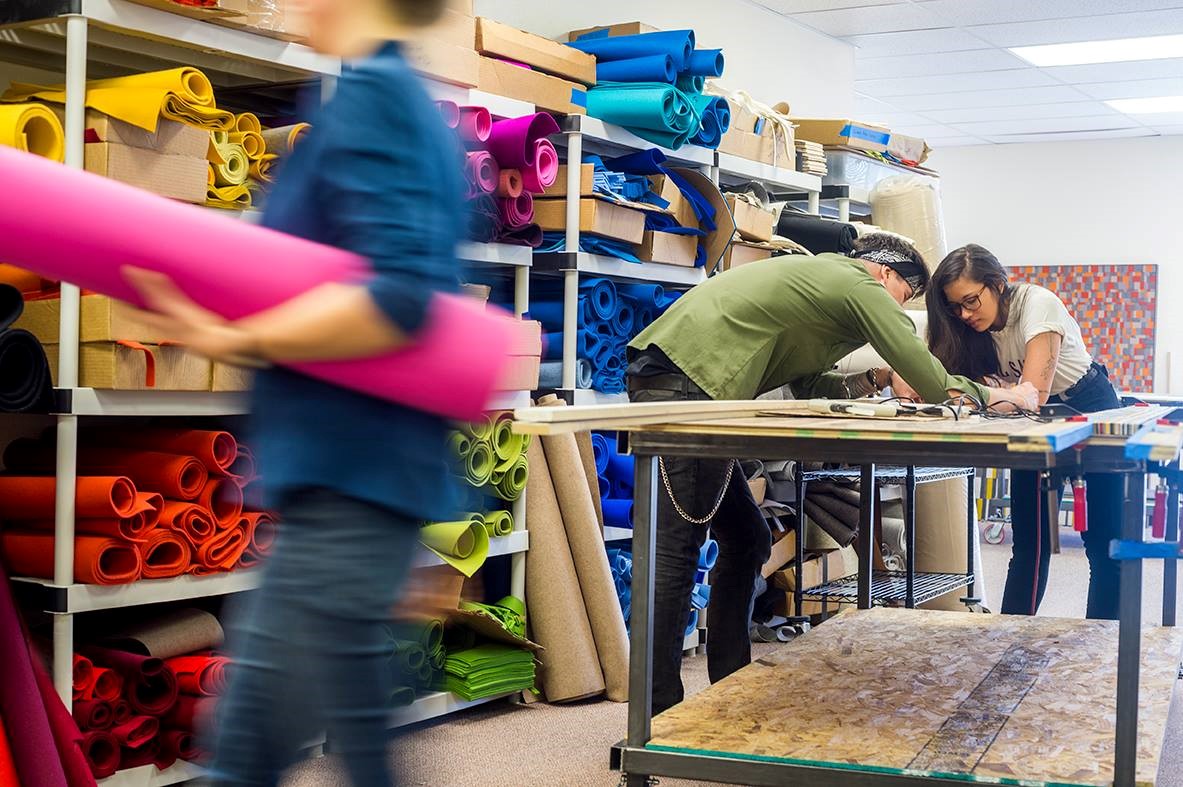 With an interest in learning and making, Submaterial founder David Hamlin began purchasing furniture and disassembling it.
He wanted to learn how every piece came together to create the whole; how various materials were secured to one another. Entire couches were unstuffed and stripped to their essentials in David's small studio apartment in Seattle. Although unfortunate for his downstairs neighbors, it proved valuable in the following years as David secured jobs working on furniture and fixtures.
After opening and closing the doors of two companies, David took valuable lessons with him and established Submaterial in 2006. He and his partner decided it was time to get away from the cool, damp climate of Seattle, and began making their way southwest. ​With a two-year stop in his hometown of Denver, Colorado, Submaterial re-located to New Mexico in 2012. Soon after the move, Submaterial received a large order of custom wallcovering from Gensler for the KCET television station in Los Angeles. This order was the first indication of what would later grow to be a large revenue stream for Submaterial: commercial wallcoverings.
 
Submaterial began fulfilling orders from the garage of David's home in Placitas; one notable order arrived from Seattle architect Olson Kundig for their client, Microsoft. This soon led to more orders and a need to expand out of David's garage and into a larger studio space in 2013.
 
Since establishing roots in New Mexico, David has developed many new designs and collections, and has started experimenting with more vivid color palettes than the white and gray he'd grown accustomed to in Washington. With a home surrounded by the peaceful views and mountains of Placitas, David's creativity has been rejuvenated.
 
The company quickly outgrew two studio spaces before moving into its current Albuquerque location. Since 2012, Submaterial has provided wallcovering designs for clients such as Gensler, Herman Miller, Google, Starbucks, LinkedIn, Apple, Nordstrom, Snapchat, and many design firms across the country. Recently, the design studio produced and installed an order of Index Dimensional for the new downtown location of Albuquerque Economic Development, Inc.